When Bret Baier takes his seat at the 'Special Report' news desk, he is prepped and ready to follow a simple formula — one he learned from his mentor and predecessor, Brit Hume.
It's not about you, Hume advised, and let the news drive the show.
"It's an equation that works," says Baier. "Fair, balanced, and unafraid."
On his acclaimed Fox News program, Baier showcases what's happening inside the DC beltway and on the world stage — and as up-to-the-moment as possible. But, it's no easy task. "I'm always one tweet away from changing my whole show," he quips.
Committed to fostering an open and honest dialogue around the news of the day, Baier combines his experience and knowledge to powerfully engage people in their democracy, as well as in history and its influence. And his efforts go well beyond his nightly newscast.
A bestselling author, Baier recently toured the country to discuss his highly-anticipated new book, Three Days at the Brink, detailing FDR's unique importance and influence during WWII.
His podcast 'The Campaign' — new this year — is also catching attention for its in-depth analysis and compelling conversations about the growing field of White House hopefuls. With a rotating panel of experts, Baier cuts through the noise, guiding listeners through campaign strategy and motivation, and each candidate's potential path to victory.
Celebrating 20 Years at Fox News
Baier's journey to covering politics, and the lights and cameras of studio life, started out like many in his field, working at TV stations in towns like Beaufort, S.C., and Rockford, Ill.
He started his Fox News career in Atlanta over 20 years ago, as the network's bureau chief — opening the city's news bureau in his condo, with a fax machine and a new-fangled cellular phone.
Just three years later, everything changed for Baier, when on Sept. 11, 2001, he drove from Georgia to Arlington, Va., to cover the attack on the Pentagon.
He didn't know it then, but he would never return to Atlanta.
From that day on, Baier became Fox's national security correspondent, covering military and national security affairs, as well as defense, military policy, and the intelligence community from the Pentagon. Later, in 2006, he was named chief White House correspondent, covering the Bush administration's second term.
Baier has since risen to anchor 'Special Report,' one of the highest-rated programs in cable news, where he's spent the last decade.
For his commitment to fairness — and making sure his listeners hear all sides of the issues — Time magazine's Joe Klein acknowledged 'Special Report with Bret Baier' as the only "straight newscast" in cable news at 6PM/ET. Baier also was awarded the 2017 Sol Taishoff Award for Excellence in Broadcast Journalism — one of the National Press Foundation's highest honors.
Television's Masterful Moderator
Considered today's gold standard in American journalism, Baier is revered by people on both sides of the aisle as truthful, unbiased, fair, and professional.
"He makes it about the news, not his opinion on it," said one listener, as reported by AJC.
For his inordinately balanced coverage, Baier has anchored more than 30 political specials on the Fox News Channel during his tenure — including co-hosting the network's Election HQ in 2012, and anchoring and moderating presidential debates in 2012 and 2016. As chief political anchor, his coverage will continue with the 2020 election.
A masterful moderator, Baier has interviewed America's most prominent figures, from his seat at the news desk, inside the White House's Blue Room, and on Air Force One. Among his most notable are Presidents Donald Trump, Barack Obama, and George W. Bush, and former FBI director James Comey.
Baier's thoughtful reporting and sharp analysis has taken him around the world, too. Traveling with various administrations and military officials, he's reported from 74 countries — including from Iraq 12 times and Afghanistan 13 times.
Recently, Baier gave viewers a behind-the-scenes look at this year's UN General Assembly in New York, interviewing Turkish President Recep Tayyip Erdogan and Libyan Prime Minister Fayez al-Sarraj to discuss the challenges of a strategic partnership in today's political environment, the latest with Russia, and the impact of sanctions on a just and fair world order.
No matter the subject matter or the venue, "One of the special qualities that Bret has is his ability to create a special moment," said his Fox News colleague Chris Wallace.
On History and His Latest Book
Beyond breaking news, Baier enjoys time with his family, engulfing himself in lessons from history, and writing.
For his first book, released in 2013, Baier eschewed the political thing, instead recounting his son Paul's journey through the "beeps and buzzes in Children's National Medical Center" to triumph over a rare heart disease.
Baier has since journeyed into epic histories, with his bestselling Three Days series. The newly-released Three Days at the Brink is the third and final installment, centered on the gripping lost history of the Tehran Conference, where FDR, Churchill, and Stalin secretly plotted D-Day and the Second World War's endgame.
On lessons from the book as it applies today, "We should not fear talk. We should fear the end of talks," writes Baier, in a recent op-ed. It's important to get younger generations involved in the conversation, too, he adds. We can't forget where we came from, "especially when it comes to our kids," says Baier.
Break down the news of the day, with Bret Baier. Request availability here to book him for your next panel.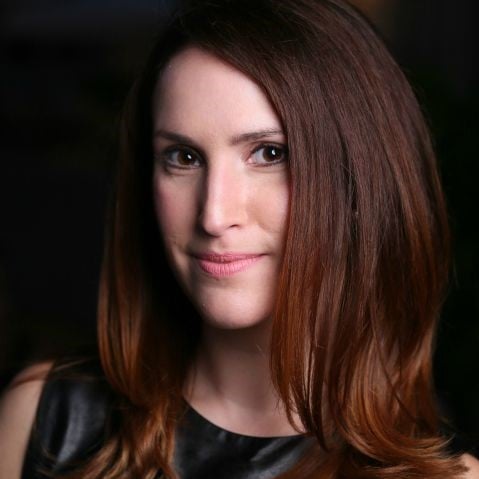 Anna Jasinski was a content marketing strategist at WSB. Prior to her time here, she was a content consultant for Fortune 500 brands, and a magazine journalist. When she's not busy writing and creating, you can find her hanging out with her two new puppies.