The traditional slide deck has become synonymous with a presentation. The reality is, it's also become synonymous with dated, and even boring. If it's not supported by a highly-engaging talk, you may be setting yourself up for an unengaged audience.
A boom in presentation technology, fueled by the ubiquity of mobile apps, has given birth to a bevy of tools that can make almost any event more lively.
Web and mobile apps, many of them affordable, allow new capabilities — from the ability to poll your audience to animation and video that add compelling elements to your presentation screen. There is even wearable and throwable technology that can enhance your game on stage.
Of course, there is nothing wrong with PowerPoint, particularly if you're integrating multimedia elements to make things more interesting.
But, if you want your presentation materials to stand out, here are some suggestions for how to take it to the next level.
App-Based Technology
There are many different ways to enhance your presentation. With almost everyone in your audience likely carrying a mobile phone, these apps can allow your audience to participate in new ways.
This is an app that allows audience participation. The speaker can ask a question, attendees can answer using their phones, and the results can be posted live on the screen. The service, which replicates old-school Audience Response Systems, introduces an interactive experience to any event.
This app allows you to share your presentation to mobile phones in the audience, allowing attendees to comment, like, and share your slides. It adds interactivity and eliminates the need for handouts.
Improving Your Slides
Integrating multimedia elements will help tell your story in a more compelling way. Video, animations, and other features can take a standard presentation to the next level. Here are some tools.
Prezi is a go-to alternative for those who want a visually appealing, non-linear approach to slides. Elegant transitions move seamlessly, masking the idea that attendees are looking at slides.
Powtoon creates short, punchy animated videos that grab attention. You can use images, motion, music, and more — all with a drag-and-drop interface designed for beginners.
Animoto allows you to build short videos, with templates and a drag-and-drop interface that is friendly to non-techies. It comes with an archive of images and video, and almost all aspects of your creation are configurable. If you want to add video, Animoto is a solid option.
Canva is a design, photo, and graphics program. It has a "presentation" format that allows you to create graphics to show off your data. Once ready, you can show your presentation right from Canva. Templates, stock images, and other tools allow for polished and professional slides.
Whiteboard videos are clean, simple, and visually compelling. VideoScribe allows you to create your own, without any technical fluency.
ZohoShow is a collaboration tool that allows you to import a PowerPoint deck and embed new features like animated transitions, images, video, and more. It also features publishing options that allow you to share your presentation on a blog or social channels.
SlideDog allows users to take slides from PowerPoint, Prezi, PDFs, and other documents to create one seamless multimedia experience. It also has audience engagement features that allow for real-time polls and feedback.
Wearable and Throwable Technologies
Presentations are more than just slides. How you deploy your presentation is also an area that can benefit from technology. For example, wearable technology like this armband can replace slide clickers, allowing you to use your own movement to transition through your slides.
Another example is this throwable microphone that makes passing the mic a lot more fun. The small green, padded cube can be thrown about, allowing you to literally toss control of the room to your audience.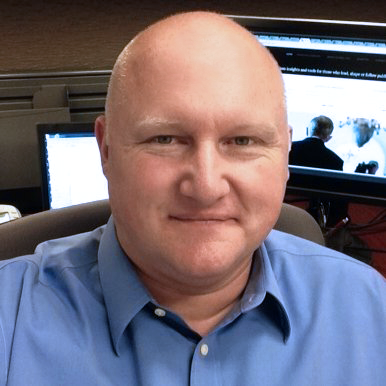 Glen Justice is a content strategist and contributor to the WSB blog. He is the founder of Outside Voice, a custom content firm, and has been writing about advocacy in various forms for almost two decades.