This year was marked by an array of major events. Policies and politics divided us. And movements to support the greater good brought us together.
We exercised our rights, voting in one of the most crucial and tumultuous midterms in years. All the while, we were humbled by the power of nature, and what can happen when communities and organizations come together.
Here's a look at the year's top Collections of iconic and illuminating thought leaders who added their voices to these and other pivotal conversations in 2018.
We stand at a politically and culturally tumultuous crossroads — a turning point marked by an uptick in awareness, polarization, and even detachment. Emerging are the challenges organizations and society face in identifying and understanding the full spectrum of our human differences.
Spurred by a penchant for action, this band of timely authorities speaks truth to power to enable enlightenment and long-lasting transformation.
Change can feel elusive. It takes time. But these speakers know that great things happen when we leave our comfort zone and come together.
On the list are Abby Wambach, Magic Johnson, and more champions of D&I.
It's a powerful moment in time for women — rising up and banding together to boldly face adversity.
These powerhouse females lay bare their struggles, reveal their secrets to success, and share their next big ideas to inspire and embolden the next generation of leaders.
Whether she's claimed the corner office or sparked the next chapter in innovation, the leaders in this group are united by their fierce visions for change.
On the list are Reshma Saujani, Kat Cole, Stephanie McMahon, and more powerhouse women leaders.
Different generations have one thing in common: they are plagued by stereotypes.
With a driving desire to create unity, this roster of creative consultants exposes audiences to new ideas and more empowering ways of working together.
They bridge the gap between age groups to break assumptions, overcome differences, and work passionately towards a shared vision.
On the list are Caroline Webb, Ash Carter, Laszlo Bock, and other insightful voices on the generational gap.
These enchanting wordsmiths know best the ancient art form of storytelling.
They know that stories are the universal thread that binds us. Stories connect us with others who have navigated similar journeys. They empower us to create change and are a force that drives us forward.
With vivid portraits of prose, these speakers enthrall audiences with a unique ability to convey and animate the human experience. On the list are Doris Kearns Goodwin, José Andrés, Scott Harrison, and more spellbinding tellers of tales.
These maestros of motivation invigorate audiences with their vibrant personas.
Sparking enthusiasm with infectious optimism, these movers and shakers inject liveliness into audiences.
Their effervescent charisma charms listeners to consider different perspectives. Their fervor leaks into their words, giving audiences the gumption to become powerful agents of change.
On the list are Dick Vitale, Bonnie St. John, and more motivational voices.
These mavens of straight talk don't mince words.
They tell it like it is, speak truth to power, and say the hard things that need to be said — even if it challenges us or coaxes discomfort.
With a commitment to integrity and directness, they know honesty is what's needed to uncover problems and find actionable solutions. Their spirit of openness cuts through the fluff to help listeners seek the truth and find the courage to confront hard realities.
On the list are Frances Frei, Jonathan Swan, Sally Kohn, Sallie Krawcheck, Richard Haass, and more.
Some people need no introduction.
Made eminent by their profound and sweeping impact, these household names enrapture audiences with gripping tales garnered from a lifetime of experiences.
With stories that are both inspiring and impressive, this band of fabled figures commands attention with credentials that speak louder than words. They use their platform and influence to empower others to find their voice, power, and purpose.
On the list are Katie Couric, Ted Koppel, John Kerry, Jenna Bush Hager, and more iconic names.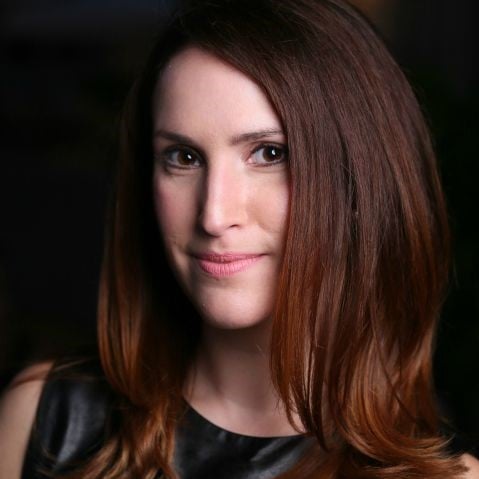 Anna Jasinski was a content marketing strategist at WSB. Prior to her time here, she was a content consultant for Fortune 500 brands, and a magazine journalist. When she's not busy writing and creating, you can find her hanging out with her two new puppies.