Leading in modern times is heavy lifting.
In every capacity, it asks that you, as a leader, put yourself last. It's a removal of the ego. It's taking a step back from your impulsive, emotional reactions — even when you're frustrated. It's serving as the force that unites everyone under a collective vision. And it's having a strategy that's nimble enough to create space for critique and change.
Combined with investor demands, public critique, shifting priorities, and a host of other complexities, it's an arduous balance. Especially in an era where resistance to leadership has become easier.
These 12 corporate trailblazers are teaching how to best lead through times of transformation. Whether they've claimed the corner office or spearheaded the next great idea, these business visionaries share compelling ideas for thinking big and leading with purpose.
Kat Cole's improbable rise from working as a Hooters Girl to running a billion-dollar brand in under two decades is an exemplary story of grit, service, and hustle.
Curious, helpful, and armed with a tenacious work ethic, she rapidly worked her way up through the corporate ranks to earn the role of vice president of a multinational brand at just age 26. After doing $800 million in revenue at Hooters, she was soon recruited by FOCUS Brands and Cinnabon to serve as chief operating officer.
In her highly-customized presentations, Cole teaches what it takes to be a leader of innovation and progress, so that people and organizations can iterate, adapt, and succeed faster.
Mark King knows how to drive business. During his tenure as President of Adidas Group North America, the company became the fastest-growing sports brand in North America, increasing sales by 35 percent in 2017, doubling its market share and regaining the No. 2 position in the U.S.
For his excellent track record driving growth, innovation, brand relevance, and culture, he was recently named as Chief Executive Officer of the Taco Bell division of Yum! Brands— to drive global brand strategies and growth.
Inspiring, dynamic, and personable, King shares stories of leading change, transforming cultures, and competing in today's world to make the extraordinary happen.
Leading at a time of tremendous growth, Jim Stengel served as global marketing officer of Procter & Gamble. Overseeing 7,000 people and an $8B advertising budget, Stengel led the team that reinvigorated P&G's marketing culture and firmly established it as one of the world's most admired brand-building companies.
Today, he's a small company entrepreneur leading the Jim Stengel Company, where he and his team help brands and companies discover and activate their purpose. In his new podcast, he sits down for intimate conversations with the most dynamic CMOs to paint a picture of "this demanding position that very few understand, yet affects the entire consumer experience."
An alchemist for brands and businesses, Stengel reveals the secrets to fostering rapid innovation in order to more meaningfully connect brands and people on a global scale.
Renowned for his strategic and operational leadership, Alan Mulally transformed a struggling Ford Motor Company into one of the world's leading automobile companies and the No. 1 automobile brand in the United States. He also led the transformation of Boeing into the No. 1 commercial airplane company and aerospace company on the planet.
Named one of the world's "30 Best CEOs," Mulally examines "working together" teamwork principles, practices, and management systems. With audiences, he shares his strategic leadership and inspires listeners to explore their own set of skills as they apply to and enhance their organization.
Named "one of the most influential women in technology" by Fast Company, Charlene Li is the founder and CEO of Altimeter Group. She helps organizations and audiences understand and thrive in a new economy driven by social media tools and techniques.
A sought-after speaker and advisor to many Fortune 500 companies, Li coaches organizations and executive leadership teams on the tools and mindset needed to adapt to the demands and opportunities of digital leadership in the ever-changing terrain of the digital era.
Lou Gerstner personifies today's global corporate leader: visionary, strategic, determined, and intensely focused. A relentless transformational leader, he navigated shifting economic and marketplace realities to reinvent IBM.
Under his leadership, IBM moved from product manufacturer to service provider, opening up entirely new opportunities for the business. His principal belief is that these tumultuous economic times present great opportunities for companies to gain a competitive advantage.
With audiences, Gerstner shares the unique challenges and opportunities of today's global business environment and offers advice based on his extraordinary career.
George Blankenship is a former executive at Tesla Motors, Apple Computer, and GAP Inc. Leaning on 30 years of experience, he drives businesses toward innovation, and transforms companies from status quo market contenders to forward-thinking and dynamic companies of the future.
An industry leader and market expert, Blankenship brings high-energy and unmatched insight on how companies can build and create brand loyalty, remain competitively positioned in a modern market, and thoroughly equip themselves to deliver first-class customer care.
His high-energy presentations inspire audiences to rethink the challenges that face consumers in a modern market to develop groundbreaking strategies that transform and elevate organizations into global icons.
Patty McCord is a human resources consultant and executive. As chief talent officer at Netflix, she was influential in establishing its corporate culture of empowering employees.
From her many years working with companies that range from very large global tech companies to small innovative start-ups, McCord's seen first-hand how companies can become slow and complacent — and how employees become cynics and whiners. She's since created work cultures that have forever changed how many companies treat their employees.
McCord brings the Silicon Valley concepts of fresh ideas and innovation and applies them to rethinking the way we work. She challenges norms and invites us to reconsider the idea of "best practices."
Josh Linkner believes creativity and innovation are the lifeblood of all human progress. As such, he's spent his career harnessing the power of creative disruption.
As the founder and CEO of five tech companies, Linkner built his businesses from a blank page into a combined value of over $200 million. As a hyper-growth CEO of over 20 years, he's used innovative approaches to topple competitors, fight through adversity, and achieve at the highest levels.
An internationally-recognized thought leader and top-rated keynote speaker on innovation, creativity, and reinvention, he inspires audiences with his actionable strategies for driving meaningful outcomes.
Simon T. Bailey is a breakthrough strategist, who says his life's purpose is to teach one billion+ people how to be fearless and create their futures. Named one of the top 25 people who will help you reach your business and life goals by Success magazine, he joins a list that includes Brené Brown, Tony Robbins, and Oprah Winfrey.
With more than 30 years of experience in the hospitality industry, including serving as sales director for Disney Institute, Bailey knows how to engage and inspire leaders and team members. He equips companies with the tools necessary to effect cultural transformation resulting in higher employee engagement and platinum customer service experiences.
Jean Case is Chairman of the National Geographic Society and CEO of the Case Foundation. A philanthropist, investor, and impact investing pioneer, she advocates for the importance of embracing a more fearless approach to innovation and bringing about transformational breakthroughs.
Weaving together real-world stories from dozens of ordinary people who ended up doing extraordinary things with practical tips, and inspiration, Case brings these lessons to life. She inspires audiences to break out of the status quo and 'Be Fearless' in their work, lives, and communities.
Ryan Estis understands the challenges business leaders and top performers face, because he's been in their shoes. He spent 15 years helping companies connect with employees and customers as an ad agency executive, building a client roster of category leading brands. Nine years ago, he decided to put that experience into practice and launch his own research and learning organization.
Including original research and customized insight for each audience, Estis inspires listeners with practical insight and powerful, relevant stories that resonate long after the meeting ends. Attendees walk away with a specific plan for how to initiate change, improve performance, and deliver growth so they can apply new ideas once they get back to work.
Looking for More?
Looking for additional corporate trailblazers that may be a better fit for your audience? You can see other top speakers on our website.
To view other topics, download WSB 100 for virtuosos in a wealth of other areas — like politics, technology and innovation, and the economy.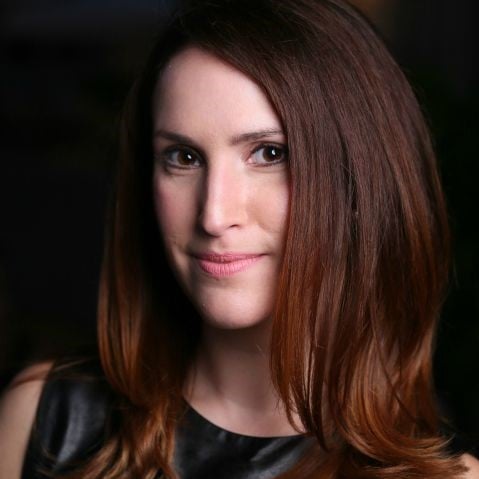 Anna Jasinski was a content marketing strategist at WSB. Prior to her time here, she was a content consultant for Fortune 500 brands, and a magazine journalist. When she's not busy writing and creating, you can find her hanging out with her two new puppies.