No matter what industry you serve, blockchain technology is likely to play a major role in your future.
Blockchain was developed as the infrastructure underlying Bitcoin digital currency. But its use as a secure, distributed, peer-to-peer technology is likely to drive change in industries as varied as healthcare, retail, and financial services of all kinds -- from identity verification to non-cash transactions.
Harvard Business Review calls blockchain a "quiet revolution" with the same transformative power as the shift to mobile phones. The New York Times wrote, "a decade from now ... it's more likely than not that blockchain will be embedded in our day-to-day lives."
Yet the big question most of us face is more acute. How will blockchain technology impact my organization and what do we need to know? While the answers may come over time, there are a handful of experts — entrepreneurs, technologists, academics, regulators, and investors — who can help you frame a discussion.
Meet seven vital voices on blockchain and cryptocurrency.
1. Brian Forde, MIT lecturer
Brian Forde is a senior lecturer on Bitcoin and blockchain at MIT and former White House Senior Advisor for mobile and data innovation. He explains the value of blockchain, as well as its ability to empower and disrupt, in relatable terms to audiences nationwide. "What Bitcoin and the blockchain do is reduce the amount of friction so that you can increase the amount of transactions," Forde says. "That's what we think will ultimately happen, enabling peer-to-peer transactions because you don't have a company in the middle who is in charge of that ledger."
In this article in Breaker, Forde shares lessons from his time on the campaign trail and thoughts on the digital currency. "It's not being 'crypto-friendly,'" he says. "It's being on the right side of history."
2. Jason Schenker, blockchain entrepreneur
Jason Schenker, a blockchain entrepreneur and author of The Promise of Blockchain: Hope and Hype for an Emerging Disruptive Technology, explains the potential of blockchain from the perspective of the early adopter. In 2016, he founded Hedgefly, a risk management platform that uses blockchain technology. The company was acquired a year later. "There are many value propositions for blockchain technology, but the biggest value for blockchain, in my opinion, is its reduction of risks that present a single point of failure," he writes in his book. Adding that: "Blockchain promises to be the antithesis of a single point of failure." Schenker continues to serve as chairman of The Futurist Institute, which he founded, and executive director of the Texas Blockchain Association.
In this piece for Australia's InTheBlack magazine, the author recaps Forde's speech to the World Congress of Accountants in Sydney in 2018. Bitcoin and blockchain are re-creating trust that has been lost in banks, he says.
3. Julian Hosp, president of TenX
Julian Hosp is co-founder and president of TenX, which created an app to help people use cryptocurrency. His focus is on facilitating the use of digital currency by improving customer experience and making it simple — especially for those who are less technically inclined. "What do cryptocurrencies and blockchain need in order to truly go mass market?" he asks. "What it comes down to is, you need to be able to use them."
In this interview with CNBC, Hosp talks about the pressure hitting bitcoin, largely due to regulatory concerns. "It's a big change in thinking for regulators," he says.
4. Anja Manuel, former U.S. diplomat
Anja Manuel is a former U.S. diplomat who co-founded the RiceHadleyGates consulting firm and who serves on the board of the blockchain company Ripple. She explains the value of distributed technology to national security, with applications ranging from secure communications to managing defense contracts. As a sought-after advisor to Fortune 50 and Silicon Valley CEOs, Manuel shares her powerful insights on the rise of emerging markets in Asia and beyond, what this means for us and America's future role in international leadership.
The U.S. government needs a blockchain strategy ASAP, says Manuel. "It would be wise for the United States to take advantage of its early technological lead before competitors inevitably catch up," she writes in Foreign Policy.
5. Tony Scott, former CIO of the U.S.
Tony Scott served as Chief Information Officer at companies like Microsoft and Ford, as well as for the U.S. government from 2015 to 2017. He speaks about the regulatory environment needed for blockchain and cryptocurrency to gain mass implementation. He calls himself a "big fan," but says the concepts are "not quite ready for prime time yet." By this, he means the regulatory regime to guard against fraud and similar problems.
At Duke University's Fuqua School of Business, Scott talks about cryptocurrency and blockchain. He recalls the stock market in the 30s' after the crash. "We haven't had the crash yet and maybe we won't, but I think we need some schemes in place that give the broad public confidence," he says.
6. Jim Carroll, futurist and author
Jim Carroll, a futurist, trend expert, and author of The Future Belongs To Those Who Are Fast, says distributed technologies like blockchain will have tectonic impact on a wide range of industries. "What we are witnessing with cryptocurrency and Bitcoin and the early harbingers is a fundamental redevelopment of the concept of money, a fundamental change in the concept of cash," he says. "What we are witnessing is an absolute distribution from centralized control of the future to a distributed future."
In this article in Money, on the 4 futuristic features every retail store will have by 2025, Carroll talks about the broader future of electronic payments.
7. Leonard Brody, venture capitalist
Leonard Brody is an entrepreneur and venture capitalist whose views on the modern economy are often sought by companies and governments. He points to a confluence of trends that he calls, "the great unwind of the financial sector." Investment in financial technology is on a massive upswing, at the same time that a generation of young people is coming of age with a deep distrust of the financial system. The result will be massive change in consumer behavior and how financial services are delivered. "A millennial and a Gen Z are more likely to trust an algorithm than a human being," he says. "And rightfully so."
In this special Forbes/KPMG series called "The Great Rewrite," host Brody explores profound trends that are rewriting the way we work and live. "It is always important to recognize that there is a bigger unknown and a scarier unknown than the one you're dealing with," he says.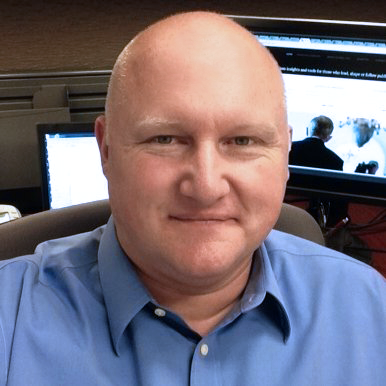 Glen Justice is a content strategist and contributor to the WSB blog. He is the founder of Outside Voice, a custom content firm, and has been writing about advocacy in various forms for almost two decades.