Speakers stand for so much more than stage presence. Many times their ideas create buzz that breeds dialogue, connectivity, and change.
In each edition of our Beyond the Podium series, we showcase timely news and ideas connected to WSB's leading voices. Here are some of the biggest stories for 2019 featuring our thought leaders and their latest endeavors — outside of the keynote.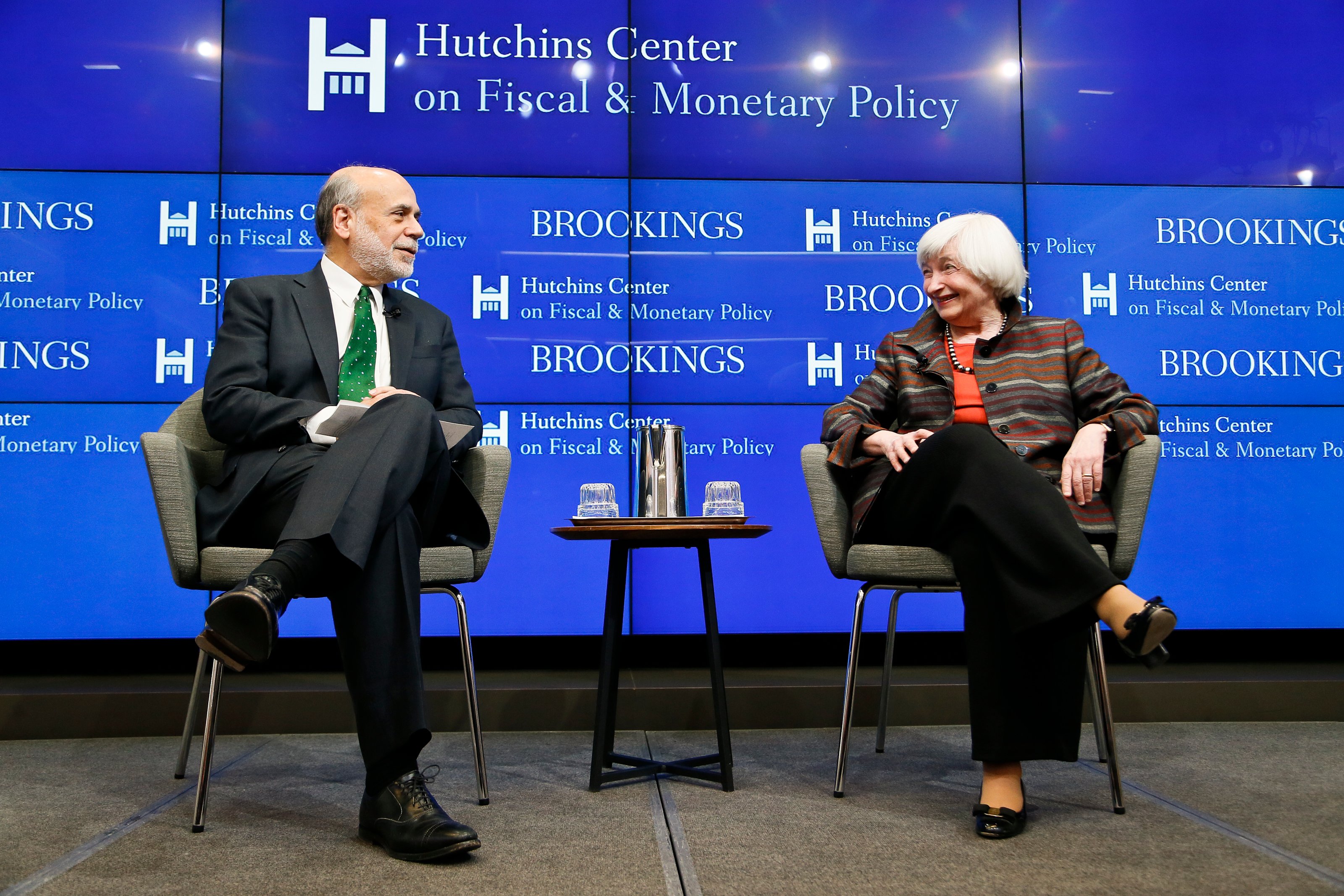 Photo of Ben Bernanke and Janet Yellen, by Paul Morigi for Brookings Institution, used under Creative Commons.
At the top of the year, former Federal Reserve Chairs Ben Bernanke and Janet Yellen joined Fed Chair Jerome Powell to discuss Fed policy and the current state of the market. Speaking at the annual meeting of the American Economic Association, Bernanke and Yellen drew on their previous experience, focusing on their relationships with the White House during their terms.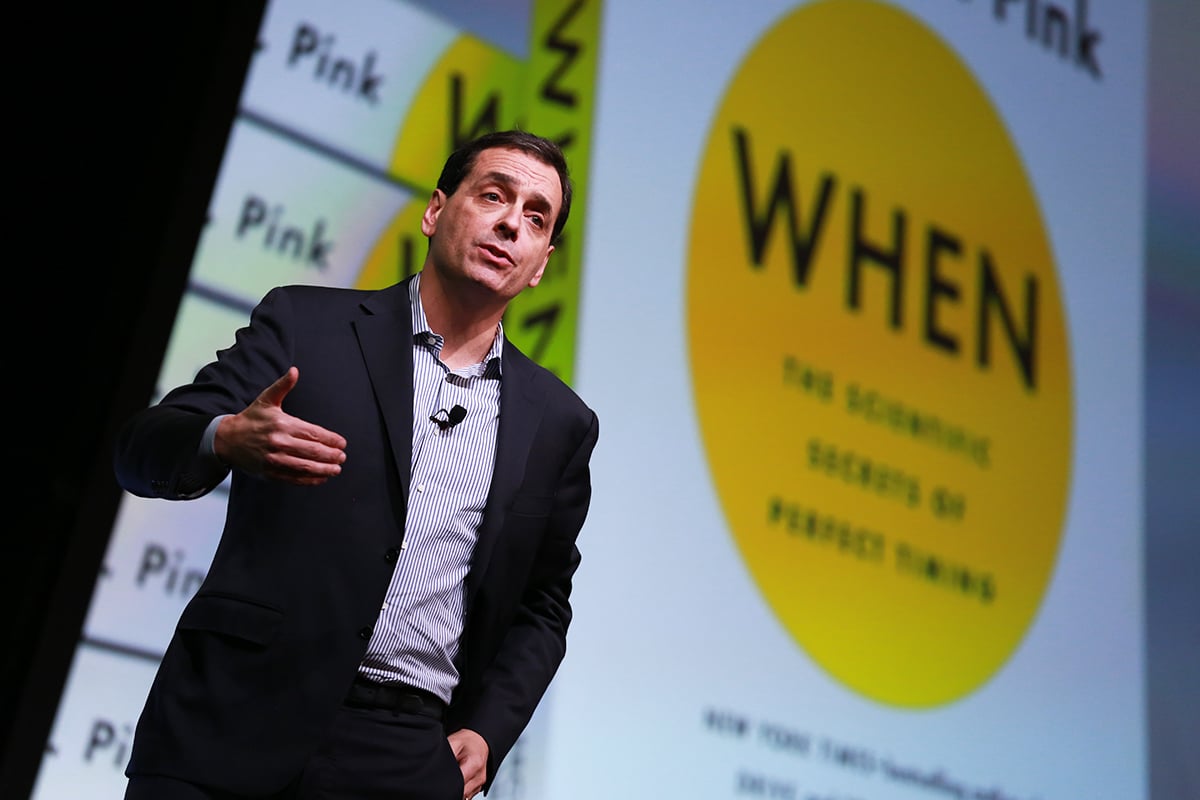 Photo of Daniel Pink by Eileen Oh.
Each year, Global Gurus collects a list of the world's top 30 most influential professional speakers, trainers, and consultants. The rankings are based on public opinion poll and a panel of judges, with the aim to choose remarkable leaders who make an impact in their fields through speaking, training, books, and media. Daniel Pink, Tom Peters, Ram Charan, and Joseph Stiglitz joined the list for 2019, based on their knowledge and support of management development.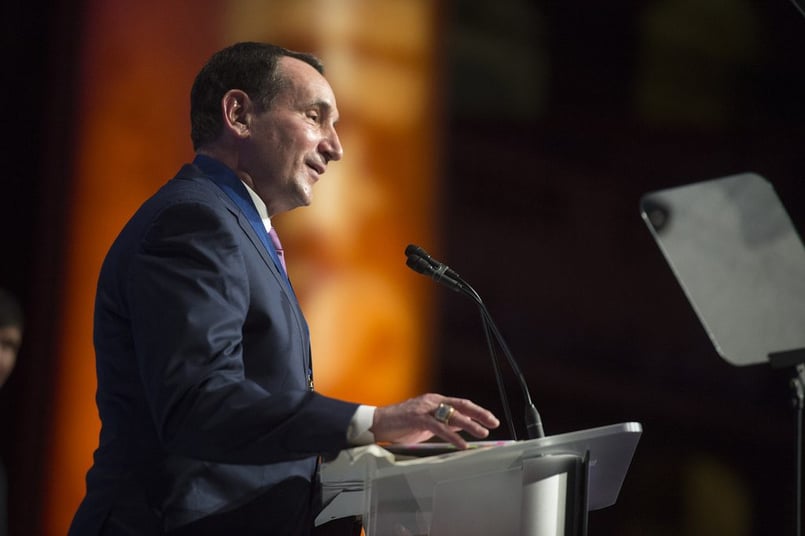 Photo of Mike Krzyzewski by Chairman of the Joint Chiefs of Staff, used under Creative Commons.
Mike Krzyzewski's name has been synonymous with winning at Duke for a long time. He's got 12 Final Four berths, five national championships, three Olympic gold medals, and 15 ACC tournament titles. Following Duke's win over NC State in Feb. of this year, Coach K surpassed the late great Pat Summitt for the most Division I wins in basketball history.
Also in March, and just in time for International Women's Day, Fortune debuted an episode of its "Superwomen" video series. The series showcases women who are doing amazing things — in the workplace, and in the wider world. Leaders like Kat Cole, the COO and president of FOCUS Brands, sat down to share their superpowers, who their own heroes are, and quotes that inspire them.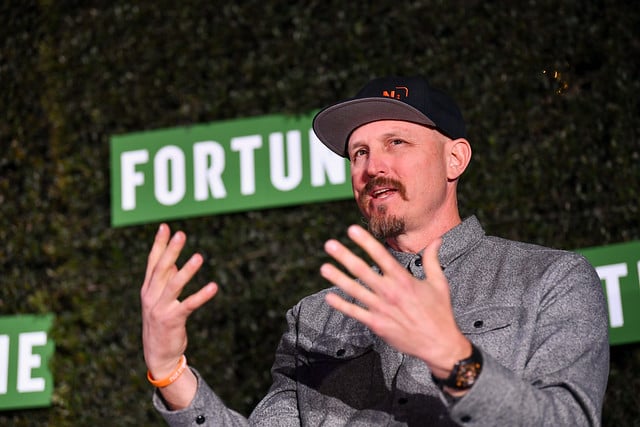 Photo of Mick Ebeling by Stuart Isett for Fortune, used under Creative Commons.
Mick Ebeling, Steve Case, and J.D. Vance were named to Fortune's list of the World's Greatest Leaders for 2019. The common thread in this year's list? Courage. Great leaders never know for sure if their plans will work, but they plunge ahead anyway. Whether in business, government, education, sports, or NGOs, these leaders were recognized for taking action before others.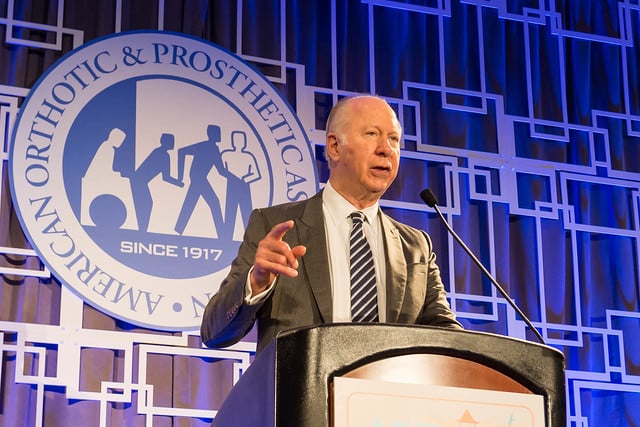 Photo of David Gergen by AOPA Events, used under Creative Commons.
With the April release of the redacted Mueller report, news outlets spent weeks buzzing and dissecting the information for the public. David Gergen, advisor to four U.S. Presidents — Nixon, Ford, Reagan, and Clinton — joined Boston's NPR News Station to provide his analysis on the 448-page report and what it all means, and what to expect in the months ahead.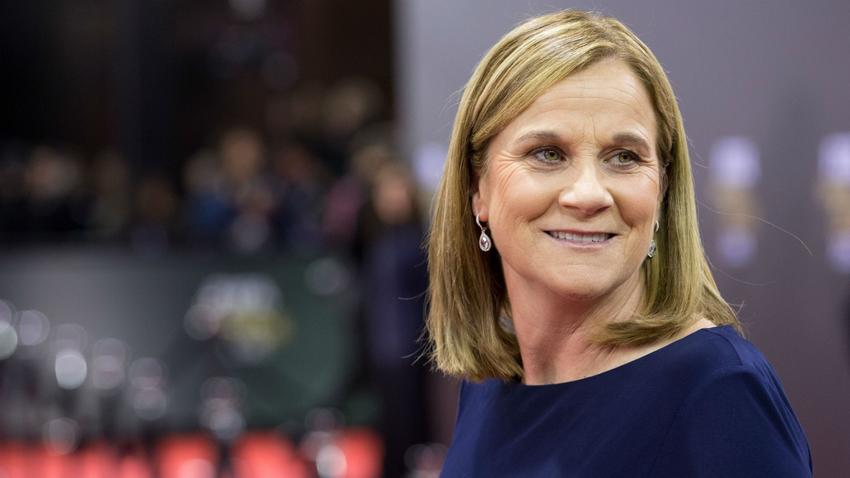 Photo of Jill Ellis.
Jill Ellis stood quietly and firmly behind the world's top-ranked soccer team, as coach of the U.S. Women's National Team, and the only woman to guide the United States to a World Cup title. Following their victory this year, she became the first person to coach a men's or women's team to two World Cup crowns since 1938, and has been formally named the winningest coach in U.S. Soccer history. This article outlines her team revamping efforts and leadership strategy for victory. Coach Ellis officially retired from the sport in Oct. 2019.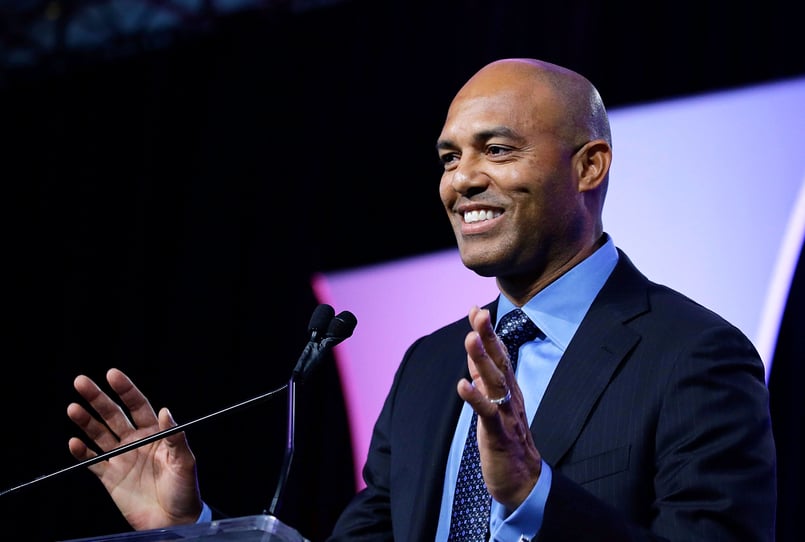 Photo of Mariano Rivera by John Lamparski/WireImage via Getty Images.
Mariano Rivera, the first player unanimously voted into the Hall of Fame by the Baseball Writers' Association of America, was inducted on July 21, 2019 — in what was the culmination of a storied career. "My intention was always to speak from the heart," he said, in his closing speech for the event. "To the fans, you guys always pushed me to be the best." The crowd at the Cooperstown, N.Y., ceremony estimated at 55,000 — the second-largest for an induction ceremony.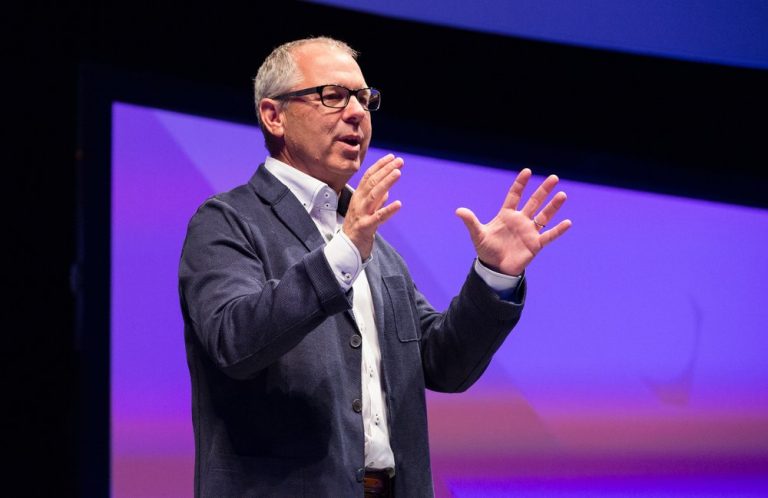 Photo of Mark King.
After successfully leading as President at adidas Group North America, Mark King joined Yum! Brands, Inc., as Taco Bell Division Chief Executive Officer. Under King's leadership, adidas became the fastest-growing sports brand in North America. During his tenure as President, he doubled the company's market share in less than three years — turning around the stalled business and challenged environment into a brand and culture powerhouse. Prior to adidas, King was CEO at TaylorMade, where he catapulted the division to become the leading and most profitable golf company in the world.
Two-time Paralympic swimmer Mallory Weggemann earned two golds and one silver medal at the London World Para Swimming Allianz Championships. She won the 50m butterfly and freestyle, giving her 15 world titles. With BBC, she talked about how she defied the odds once again after she didn't intentionally race for the last three years. Weggemann is now setting her sights on competing at the 2020 Paralympics in Tokyo.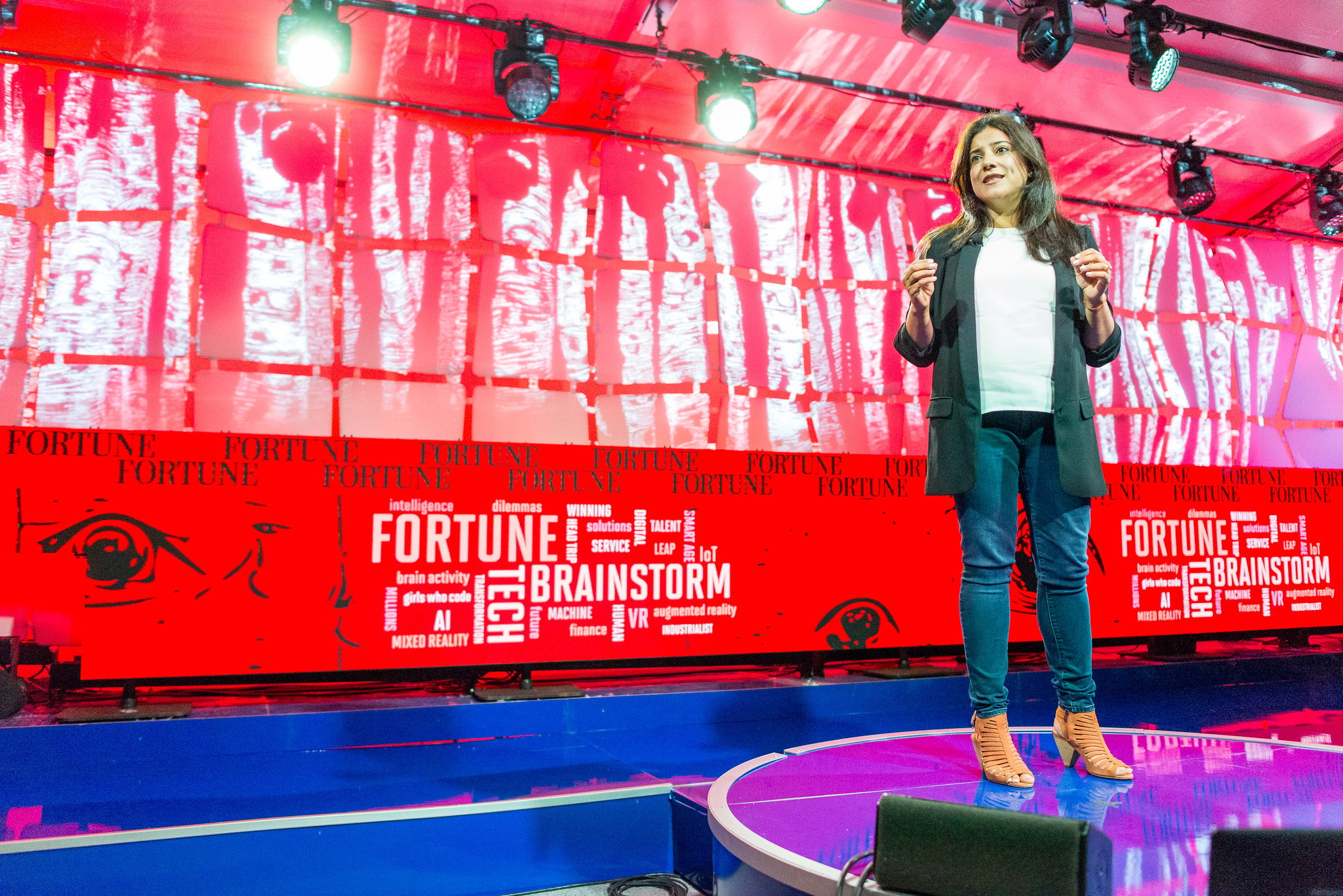 Photo of Reshma Saujani by Kevin Maloney/Fortune Brainstorm TECH, used under Creative Commons.
Reshma Saujani's non-profit Girls Who Code hosted a digital challenge to unite young women on International Day of the Girl (Oct. 11). The organization invited women to share videos and posts that represent what sisterhood means to them, in a digital "march" on TikTok. By providing a space for women to take the lead in creating and developing their own content, the march mirrored Girls Who Code's message of giving women an opportunity to see themselves in leadership roles.
Photo of James Comey
In a piece by the New York Times, former FBI Director James Comey opened up about life after the bureau. Comey talks about how he's using his platform to write powerful opinion pieces for The Washington Post and to speak about ethical leadership and common ground. He will also be the subject of an upcoming miniseries based on his bestselling memoir. Jeff Daniels will play former FBI Director in a CBS Studios adaptation.
Former NCAA championship wrestler Anthony Robles, who recently attempted another Guinness world record, will have a film out this spring featuring his life and success as an NCAA wrestling champion. The movie called "Unstoppable" is an inspiring story of how Robles — born with one leg and an unconquerable spirit — became a undefeated wrestling star in college. Dwayne "The Rock" Johnson, whose company Seven Bucks Productions is producing the film, says he's very happy to take on this project and that he and his team are passionate about sharing stories that inspire and resonate on a global level.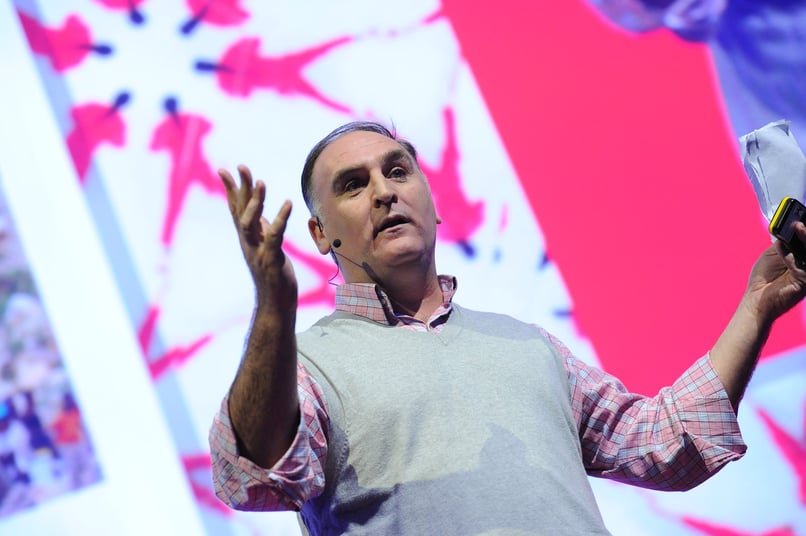 Photo of José Andrés by TEDxPhotos, used under Creative Commons.
At year's end, D.C. chef and philanthropist Chef José Andrés

was named Time for Kids' 2019 Person of the Year. In their
story
, the magazine says the ongoing work Andres' World Central Kitchen does for disaster relief is a force for good worthy of celebration. I
n response to Hurricane Dorian earlier in 2019,
Chef Andrés
delivered food to the Bahamas. He landed in Green Turtle Cay, a remote island of just 550 people, cut off by the hurricane. With his disaster relief nonprofit, they served as "Food First Responders." In his mission to give hope with food,
Chef Andrés last year was named as one of the 100 most influential people in the world by
Time
magazine. He was also recently named a Julia Child award recipient for 2019 for his "
profound and significant impact."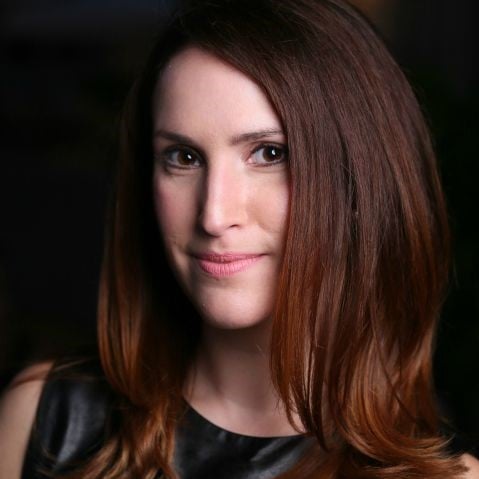 Anna Jasinski was a content marketing strategist at WSB. Prior to her time here, she was a content consultant for Fortune 500 brands, and a magazine journalist. When she's not busy writing and creating, you can find her hanging out with her two new puppies.